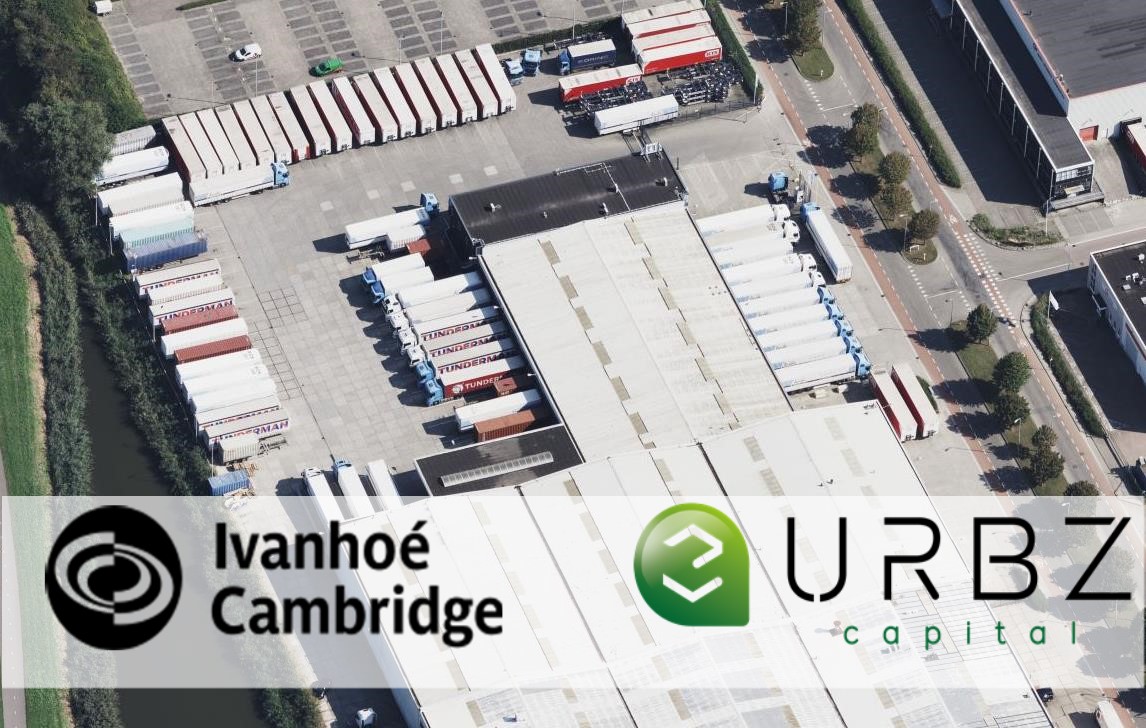 Ivanhoé Cambridge launches a last mile logistics strategy in Northern Europe in partnership with URBZ Capital
In line with the group's ambitions in the logistics sector, this new partnership aims to deploy up to €400 million and is already materializing with the acquisition (completed or in progress) of seven assets in the Netherlands.


Paris, December 2nd, 2021 – Ivanhoé Cambridge, a global leader in real estate, announced today the launch of a new last mile logistics strategy in Northern Europe and the acquisition (completed or in progress) of seven last mile assets as well as a strong deal pipeline in the Netherlands, in partnership with URBZ Capital (URBZ), an investment and asset management boutique focused on creating the next generation of urban logistics facilities in Northern Europe, with strong ESG ambitions.
The partnership between Ivanhoé Cambridge and URBZ aims to deploy up to €400 million to develop a large portfolio of last-mile logistics assets in the Netherlands and the rest of Northern Europe, namely Germany, Belgium and the Nordics. URBZ will act as asset and investment manager on behalf of Ivanhoé Cambridge. As part of this new strategy, Ivanhoé Cambridge aims to increase its exposure to prime assets that are very well located in the hearts of cities, in line with the ongoing transformation of the supply chain and the latest market standards both in terms of sustainability and innovation.
The acquisition of the first seven assets of the portfolio was secured through "off-market" transactions for a total investment amount of approximately €70 million, over a floor area of around 55,000 square meters. Based in Rotterdam, Utrecht, and Eindhoven, they are located in key urban areas and on strategic logistics corridors, allowing to distribute the city centers in less than 15 minutes, or directly by bike, and to appeal to a large quality rental base. Next to being strategically located, these assets will also benefit from a renovation program to improve their environmental and energy performance to meet the highest market standards.
In recent years, Ivanhoé Cambridge has made a significant shift towards the logistics sector, aligned with the rapid e-commerce growth, with investments rising from 5% of its global portfolio in 2015 to 16% in 2020 globally. This new strategy is in line with Ivanhoé Cambridge's major European logistics hub operations, such as the PLP partnership for the development of first-class logistics hubs in the United Kingdom, and the Hub & Flow portfolio in France, composed of 19 logistics assets totalling 515,000 square meters.
"Our "Last Mile" strategy aims to anticipate structural market trends and to support new tenants' needs linked to the rapid e-commerce growth: developing modern and low carbon facilities located in the heart of cities to deliver urban customers faster, said Michael Neuman, Vice-President, Investments, Europe at Ivanhoé Cambridge. Due to the granularity of the "last mile" assets, we deemed necessary to have a specialized partner to deploy our strategy. Alongside URBZ Capital, we look forward to growing our portfolio in other major cities in Northern Europe in the coming years."
"We are thrilled to be partnering up with Ivanhoe Cambridge in which we have found a top-tier capital partner that has a long-term view and a strong DNA and strategic fit with URBZ Capital. This program will enable us to continue executing on our strategy, creating the next-generation last mile facilities in Northern Europe", said Ali Nassiri and Bram Verhoeven, co-founders of URBZ Capital.
Ivanhoé Cambridge and URBZ Capital were advised in these transactions by Avison Young, JLL, 1530 Real Estate, Ooms Makelaars, AKD, Stevens van Dijck and ERM.


About Ivanhoé Cambridge  
Ivanhoé Cambridge creates a sustainable impact with its comprehensive urban solutions focused on people's needs. The Company develops and invests in high-quality real estate properties, projects and companies that are shaping the urban fabric in dynamic cities around the world. It does so responsibly, with a view to generating long-term performance. Ivanhoé Cambridge is committed to creating living spaces that foster the well-being of people and communities while reducing its environmental footprint. 
Ivanhoé Cambridge invests alongside strategic partners and major real estate funds that are leaders in their markets. Through subsidiaries and partnerships, the Company holds interests in more than 1,100 buildings, primarily in the industrial and logistics, office, residential and retail sectors. Ivanhoé Cambridge held close to C$60.4 billion in real estate assets as of December 31, 2020, and is a real estate subsidiary of the Caisse de dépôt et placement du Québec (cdpq.com), a global investment group. For more information: ivanhoecambridge.com. 
Media Contact:
Ivanhoé Cambridge
Julie Benoit  - julie.benoit@ivanhoecambridge.com  -Tel.: +33 (0)7 86 89 34 23
Thomas Carlat  - thomas.carlat@ivanhoecambridge.com - Tel.: +33 (0)6 73 46 00 97
About URBZ Capital
URBZ Capital (URBZ) is a real estate boutique that is focused on the urban logistics/last mile segment as an investor, manager and developer in the key cities in the Benelux, Germany and Sweden. The company goal is to capitalize on the secular growth opportunity in the next evolution of the industrial real estate sector in Europe, the last mile/ urban logistics segment, which today is significantly underserved and undefined. Successful last mile strategies are critical for its customers to keep pace with the rapid evolution of the supply chain and well-located, modern last mile space with high ESG credentials are a fundamental part of these strategies. Therefore, URBZ sees tremendous opportunity to create the next-generation, sustainable and societally accretive, last mile facilities supporting its customers to efficiently build out a CO2-neutral last leg of their supply chain.
For more information: www.urbzcapital.com